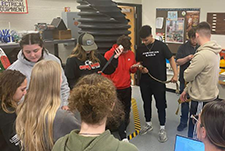 For the first time in nearly 10 years, our student section at Indiana University of Pennsylvania (IUP) has been named the Outstanding Student Section of the Year. The section is part of the Western Pennsylvania Chapter.
The section was strong in all three critical requirements — professional development, research, and campus and community Involvement. The award committee noted the group's strong technical meetings with diverse topics and presenters, along with great community service projects. The section's research projects, including "The Influence of Surface Types on Walking Parameters With Slips, Trips and Falls on Construction Sites" and "Work Effort and Perceived Exertion While Wearing Passive Exoskeleton and Industrial Overhead Tasks," also helped the section receive top honors.
Faculty advisor Majed Zreiqat, Ph.D., CSP, and the student section will receive $5,000 to fund scholarships and research. All other student sections that qualified for the award will receive a $500 stipend from ASSP.
Top Three Finalists
Indiana University of Pennsylvania – First Place
Murray State University – Second Place
Millersville University – Third Place
Qualifying Sections
Oakland University – Honorable Mention
Embry-Riddle Aeronautical University (Florida)
Grand Valley State University
Liberty University
Montana Tech University
Slippery Rock University
Southeastern Oklahoma State University
Texas A&M University
University of Houston, Clear Lake
To learn more about the award and view IUP's winning application, visit our Outstanding Student Section of the Year Award web page.